Vee-Tite®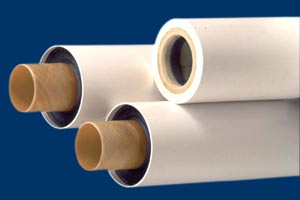 Pipe size: 2″- 12″ diameters, 20′ or 19 nominal lengths
Temperature range: 35ºF to 225ºF
Max. operating pressure: 150psi
Carrier: Fiberglass Reinforced Plastic (FRP)
Insulation: Polyurethane foam
Casing: Heavy wall PVC (PIP80, 80lbs)
              Options: PVC Industry standard (PIP22, 22lbs)
                           HDPE
                           Fiberglass
Vee-Tite is a gasketed coupling FRP piping system featuring a high flow, corrosion free service for condensate, low temperature hot water, dual temperature, or chilled water service. Vee-Tite meets Federal Guide Specifications for hot and chilled water systems. Vee-Tite is a lightweight, easy to install, energy efficient quality piping system. The carrier pipe is a filament wound epoxy pipe with a resin rich. The system is produced with a grooved FRP coupling containing high temperature rubber 'V' rings. Insulation is a thermally efficient polyurethane foam with a 'K' factor of 0.16 at 70ºF. The heavy wall PVC casing and heat resistant end seals keep the insulation dry.
 The piping system is non-corrosive and maintains very high flow rate characteristics. It is an excellent choice for underground district heating, dual temperature lines, and geothermal heating systems.
 Fittings are un-insulated FRP designed to be used with the carrier pipe. Fittings have a bell to match the tapered spigot end of the pipe. The pipe fittings are joined with adhesive and may require heat curing. A complete line of fittings are available for the Vee-Tite system.
                                                        Vee-Tite® Joint
The Vee-Tite joint provides for expansion and contraction through the use of a pre-insulated FRP coupling. The joint compensates for expansion, contraction, and earth movement.