Super Weld-Tite®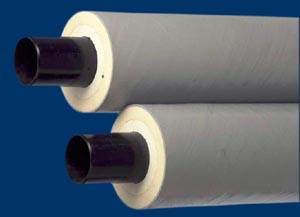 Pipe size: 1 1/2″-16″ diameter, 20′ or 40′ nominal lengths
                 Option: ¾" – 1-1/4" diameter
Temperature range: 250ºF to 450ºF
Max. operating pressure: 250psi
Carrier: Steel
Primary Insulation: Calcium silicate or Foamglass with Hydrocal B-11
Secondary Insulation: Polyurethane foam
Casing: Heavy wall fiberglass Reinforced Thermosetting Resin Pipe 
Super Weld-Tite is a welded steel piping system for high pressure steam, condensate, and high temperature hot water. It combines steel pipe with calcium silicate and polyurethane foam insulation inside a corrosion resistant fiberglass casing.
Super Weld-Tite is a versatile, energy efficient, quality piping system. The standard carrier pipe is Schedule 40/80 A53 steel, other grades of steel are available if specified. The inner insulation is a high temperature Calcium Silicate satisfactory for temperatures to 1,200ºF and outer insulation is a thermally efficient polyurethane foam with a 'K' factor of 0.16 at 70ºF. The heavy wall FRP casing combined with FRP joint over-wraps prevents ground water penetration. No external coating or cathodic protection is required.
Super Weld-Tite can be designed with expansion loops or in-line expansion joints. All fittings are pre-insulated, customed fabricated to meet job requirements. Pre-insulated fittings are produced with the same carrier, insulation, casing as the pre-insulated straight sections.
Super Weld-Tite

®

Joint
The Super Weld-Tite joint is welded. Pipe joints are insulated using insulated half shells with FRP casing and FRP over-wrap kits. All field joints are air tested using a pre-installed copper tube to make sure joints are watertight. The air test can be waived when a heat shrink sleeve is applied over the fiberglass over wrapped field joint.