Super Temp-Tite®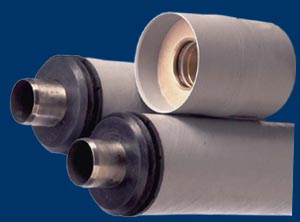 Pipe size: 3″-12″ diameter, 20′ nominal lengths
Temperature range: 212ºF to 406ºF
Max. operating pressure: 250psi
Carrier: Steel
Primary Insulation: Calcium silicate or Foamglass with Hydrocal B-11
Secondary Insulation: Polyurethane foam
Casing: Heavy wall fiberglass Reinforced Thermosetting Resin Pipe
Super Temp-Tite is the most advanced steam transfer system available today. It combines steel pipe with calcium silicate and polyurethane foam insulation inside a corrosion resistant fiberglass casing. A unique slip-joint provides quick and easy installation and a "built-in" expansion system. The "thermofoam" insulation increases energy savings over conventional systems. Super Temp-Tite meets Federal Guide Specifications for steam. 
Super Temp-Tite is supplied with pre-insulated fittings customed made to meet job requirements. Pre-insulated fittings are produced with the same carrier, insulation, casing, and rubber end seals as the pre-insulated straight sections.
                                                         Super Temp-Tite® Joint
The Super Temp-Tite system is joined by a bronze coupling containing a teflon seal and a high temperature Aflas O-ring. The seals and ring are restrained in machined grooves on both sides of the coupling. A refractory composite block is bonded to the casing that locks the coupling in place. Expansion and contraction is automatically provided for at each coupling.
Super Temp-Tite advantages:
No expansion loops or devices: Expansion and contraction is automatically provided for in each coupling. This relieves stress eliminating the need for other expansion loops and elbows.
Isolated sections and continuous pipe support: No through metal contact between lengths, isolates carrier pipe corrosion. Rubber end seals and fiberglass casing prevent ground water infiltration. Super-Temp-Tite conforms to Federal "Water Spread Limiting" requirements. A WSL system limits ground water infiltration from field damage to a single section of pipe. Water cannot spread to adjacent sections of pipe. The carrier pipe is continuously supported by the insulation eliminating the need for internal supports thereby minimizing stress.
Reduces installation costs up to 75%: Positive slip joint assembly requires no welding, insulation, or coating of joints. Pipe runs are straight … no digging for expansion loops. Thermal efficiency may eliminate the need for some manholes.
Cuts energy costs: Composite insulation fills the annulus space between the steel core pipe and casing. The combination of calcium silicate and polyisocyanurate foam insulation offers the best thermal efficiency available in a preinsulated system.
Eliminates external galvanic corrosion: non-metallic fiberglass casing eliminates corrosion from ground water, stray electrical currents, and corrosive soil. No external coating or cathodic protection is needed.