Heat-Tite®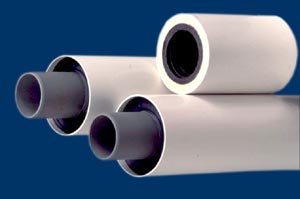 Pipe size: 1 1/2″-12″ diameter, 20′ or 40′ nominal lengths
Temperature range: 35ºF to 250ºF
Max. operating pressure: 150psi
Carrier: Steel
Insulation: Polyurethane foam
Casing: Heavy wall PVC (PIP80, 80lbs)
             Options: PVC Industry standard (PIP22, 22lbs)
                           HDPE
                           Fiberglass
Heat-Tite is a steel piping system featuring a gasketed coupling with built-in expansion control for condensate, low temperature hot water, dual temperature, or chilled water service.. Heat-Tite meets Federal Guide Specification for condensate and hot water.
Heat-Tite is a top quality, energy efficient piping system that is easy to install. The standard carrier pipe is Schedule 40 A53 steel pipe with the sealing surfaces sand blasted and zinc coated to prevent corrosion. The system is produced with a Ductile Iron double grooved coupling containing high temperature rubber 'V' rings. Insulation is a thermally efficient polyurethane foam with a 'K' factor of 0.16 at 70ºF. The heavy wall PVC casing and heat resistant end seals prevent ground water infiltration. 
Heat-Tite may be supplied with pre-insulated fittings. Pre-insulated fittings are produced with the same carrier, insulation, casing, and rubber end seals as the pre-insulated straight sections. Fittings may be un-insulated using welded steel or Ductile Iron class 150 fittings with a groove and rubber ring if so specified.
                                                                  Heat-Tite® Joint
The Heat-Tite joint provides for expansion and contraction through the use of a pre-insulated gasketed coupling. EPDM sealing rings are placed in the groove of the pre-insulated Ductile Iron coupling. The joint compensates for thermal movement without additional stress on the pipe. There is no need for loops or other expansion devices.