Copper-Core®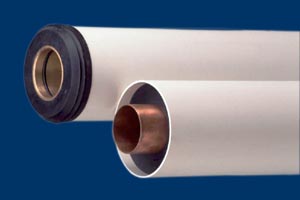 Pipe size: 1″- 6″ diameters, 20′ nominal lengths
Temperature range: -135ºF to 250ºF
Max. operating pressure: 150psi
Carrier: Copper (Type K , L or M)
Insulation: Polyurethane foam
Casing: Heavy wall PVC (PIP80, 80lbs)
                  Options: PVC Industry standard (PIP22, 22lbs)
                           HDPE
                           Fiberglass
Option: Brazed joint
 Copper-Core is a gasketed copper piping system featuring a integral bronze coupling with built-in expansion control for low temperature and domestic hot water, dual temperature, or chilled water service.
Copper-Core is a lightweight, easy to install, energy efficient quality piping system. The standard carrier pipe is Type K copper. The system is produced with an integral grooved bronze coupling containing two high temperature heat resistant rubber 'O' rings. Insulation is a thermally efficient polyurethane foam with a 'K' factor of 0.16 at 70ºF. The heavy wall PVC casing and heat resistant end seals keep the insulation dry. The piping system is non-corrosive and maintains very high flow rate characteristics.
 Fittings shall be un-insulated type 'K' copper designed to be used with the carrier pipe. Fittings may be insulated if so specified.
                                                      Copper-Core® Joint
The Copper-Core specially engineered joint provides for expansion and contraction through the use of an integrated bronze coupling. The joint compensates for expansion, contraction, and earth movement without additional stress on the pipe. There is no need for loops or other expansion devices.
Copper-Core may be ordered using a brazed joining method utilizing a separate copper coupling. Pipe joints using this joining method shall be insulated using polyurethane shells, casing-tite (PVC) sleeve, and 30mil High Temperature tape.